Accreditations


Partners


ECTS Composition
To graduate, students are required to earn 90 ECTS credits in total as follows:
60 ECTS from taught core courses
30 ECTS from taught elective courses OR
15 ECTS from taught elective courses and 15 ECTS from a 12,000-word Final Project (Thesis) on management applications to specific sectors.
Bachelor degree from a recognised university or equivalent qualification
Good level of English
Success in the personal interview
No work experience required
Core Courses: Total 60 ECTS
Course
Code
ECTS
Managerial Functions
Foundations of Accounting and Finance
MA565
4.5
Managerial Economics
MA480
6.0
Operations Management & Logistics
MA440
4.5
Marketing Management
MA490
4.5
Corporate Finance
MA460
6.0
Organisation & Value Creation
Organisational Behaviour
HR405
6.0
Innovation, Value Creation & Value Capturing
MA215
6.0
Career and Industry Seminars
MA510
4.5
Leadership & People's Skills
Ethics, CSR & Sustainability
HR495
3.0
Communications Skills
HR535
3.0
Leading & Managing Change
HR550
3.0
Research Analytics
Qualitative Research
HR585
3.0
Statistics & Quantitative Methods
MA575
6.0
Total ECTS Credits (Core Courses)
60
Download the Programme Table (PDF)
MSc Business Management Tracks
MBM – MSc in Business Management offers a balanced blend of theory and practice. Our academically stimulating programme of 12 core courses taught in the classroom focuses on modern management concepts and makes relevant use of the case study method and heavily involves interactive learning (including blended learning) as essential parts of your classroom experience.
Furthermore, our programme is enriched by action-learning elements such as company visits and practical skills workshops that are part of the Career and Industry Seminars core course. This course is mostly a combination of outside-the-classroom activities.
As a programme participant, you will also get involved in real-life company projects: read more about our Live Case Project
Course Structure

Modular Course Structure
The Programme is a combination of core and elective courses. Courses follow the Flexi Study modular principle as opposed to the semester-type principle. Courses are of variable length depending on their ECTS credits and students attend one course at a time. Learn more how the Flexi Study system works.
Time and Duration
The MBM – MSc in Business Management is a flexible 13 months modular programme with rolling admissions, which means you can join any time of the year. We have two main intakes: September/ October and January/February.
Classes are held during evenings and weekends, leaving weekdays free for employment or internship.
The MBM – MSc in Business Management can be completed in 13 months by attending classes six to eight evenings plus two weekends per month, or you can complete it at a slower pace by taking up to a maximum of two years.
Accreditations


Partners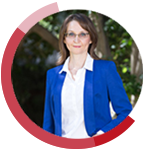 "Our ultimate goal is to develop in our MSc Business Management participants the ability to see opportunities in the dynamic world of management, and use – in a responsible manner – those opportunities to start or advance their career."
Dr. Olga Kandinskaia
Director of MBM – MSc in Business Management