Accreditations


Partners


Programme Director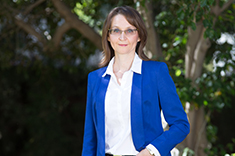 Olga Kandinskaia is the MSc Business Management Programme Director and Assistant Professor of Finance at CIIM. She has a PhD in Economics (1995) from MGIMO-University, one of the most prestigious schools in Moscow.
Dr Kandinskaia joined CIIM on a full-time basis in 2011. She had been a visiting lecturer at CIIM since 2002. She has 20 years of experience in teaching undergraduate, graduate and executive courses at different universities and colleges in Cyprus, the UK and Russia.
Dr Kandinskaia has taught on MBA programs of the Graduate School of International Business of the Academy of National Economy (Russia), the University of Greenwich, the University College Plymouth, St Mark & St John (UK).
Dr Kandinskaia is the leader of the new blended learning initiative at CIIM, which aims to substantially improve students' learning outcomes through the creative use of technology.
Dr Kandinskaia has an extensive record of publications which include two books and more than 50 articles in academic and business journals. Her main research interests focus on different issues of corporate finance and financial derivatives as risk management tools. Olga's latest research has been in the area of blended learning and e-learning.
Olga Kandinskaia, PhD (MGIMO-University, Moscow Russia), Associate Professor of Finance & Director of MSc Business Management Programme

Theodore Panayotou, PhD (University of British Columbia US), Professor of Economics and Ethics & Director and Dean of CIIM

Paris Cleanthous, PhD (Yale University US), Associate Professor of Marketing and Strategy, Director of Master in Business Administration (MBA) Programme, & Director of Master of Public Sector Management (MPSM) Programme

Takis Stylianides, PhD (North Dakota State University US), Emeritus Associate Professor

Andrey Afanasiev, PhD (Russian Academy of Science), Associate Professor of Finance and Risk & Director of MSc Financial Services Programme

Theodosis Mourouzis, PhD (University College of London), Lecturer in Information Management & Director of MSc Business Intelligence and Data Analytics Programme

Vicky Katsioloudes, PhD (Louisiana State University), Assistant Professor of Human Resource Development & Director of MSc Human Resource Management & Organizational Behaviour Programme

Radoslav Baltezarevic, PhD (Megatrend University, Belgrade Serbia), Associate Professor of Marketing and Communication

Daniele D'Alvia, PhD (Birkbeck University of London), Associate Professor of Law

Kyriakos Petrou, PhD (University of Cyprus) Lecturer

George Christou, PhD (Tufts University), Associate Professor
Andreas Assiotis, PhD (Southern Illinois, University USA) Head of Economic Analysis and Research, Hellenic Bank

Luis Lages, PhD (Warwick University), Associate Professor at the School of Economics and Management of Universidade Nova de Lisboa Portugal

Mike Berry, MSc with Distinction (Imperial College London), Visiting Lecturer and MSc Project Supervisor at the University of Warwick

Panayiotis Jacovides, MSc (Grande Ecole of Marseille France), CEO / Director of The Expert's Alliance – Jacovides & Associates Ltd, Cyprus

Dionysios Dionysiou, PhD (University of Strathclyde Glasgow) Associate Professor, ALBA Graduate Business School

Kyriacos Pavlou, Ph.D. University of Arizona, Visiting Lecturer

Stylianos Kampakis, Ph.D. University College London, Visiting Associate Professor

Reza Kouhy, Ph.D. Abertay University, Visiting Professor

Nikolaos Vlassis, Ph.D. University of Exeter, Visiting Professor
Accreditations


Partners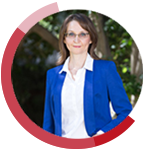 "Our ultimate goal is to develop in our MSc Business Management participants the ability to see opportunities in the dynamic world of management, and use – in a responsible manner – those opportunities to start or advance their career."
Dr. Olga Kandinskaia
Director of MBM – MSc in Business Management