Accreditations


Partners


Digital Marketing Track
Digital Marketing – DMI Diploma Course
The Digital Revolution has changed the face of business and specifically marketing, altering the traditional balance of power between companies and their customers. It is a key driver for the transformation of the role of Marketing and it has opened up a new world of opportunities for those business managers who can master these new skills.
And yet Digital Marketing can be confusing; there's lots of jargon, many abbreviations/ acronyms and of course it's constantly evolving. Some senior managers find it overwhelming!
All the more need for digitally-savvy marketing professionals. This highly-acclaimed course will give you insights into this vitally important new world of marketing. You will learn skills including SEO, Google Ads, Email Marketing, Online Display ads and Digital Analytics. The course combines solid academic theoretical underpinnings with practical real-world examples from all over the world. You will emerge challenged, confident and motivated to learn more about this important and fast-growing sector. After this content-packed, lively and intensive week, you will not be an expert at everything digital but you will certainly understand the principles and be able to speak the language of Digital Marketing. You'll confirm exactly what you already know, master some concepts you never properly understood before and, very likely, discover some things you'll want to go into more deeply.
Above all, you will be more employable: whether this means becoming more effective in your current role, making a step-up to a new challenge in your organisation, or setting out on a fresh adventure.
Now in its 8th successful year, this CIIM course is devised and delivered by an expert who knows what it takes to succeed. In this competitive digital world, it will enable you to hold your head up with new confidence in your digital knowledge and skills.
And that's not all. To fast-track your career, you may choose to register for the leading international professional certification in Digital Marketing:
Certified Digital Marketing Professional
https://digitalmarketinginstitute.com/students/courses/professional-diploma-in-digital-marketing
Special DMI Offer for CIIM Students
The professional diploma in Digital Marketing is a globally-recognised qualification which proves you can not only 'talk the talk', but also 'walk the walk'! It demonstrates that you have the knowledge, the skills and the mindset to meet the challenges of this innovative and exciting industry. CIIM is offering this opportunity via our official partner DMI (Digital Marketing Institute) https://digitalmarketinginstitute.com/en-eu/educators/partner-network.
The combination of a CIIM Master's degree with a professional DMI certificate will boost your employment opportunities. The special price of the DMI professional diploma for CIIM students is only €500 – covering both the registration with the DMI and the DMI examination. The fee is payable before the start of the course via CIIM. Professor Mike Berry will hold an extra session for those students signed up for the DMI exam.
Course Instructor
Mike Berry
MSc, Dip DM, F IDM, FCIM
http://mikeberryassociates.com
https://www.youtube.com/user/mikeberryassociates
https://www.linkedin.com/in/mikeberrylinkedin
Accreditations


Partners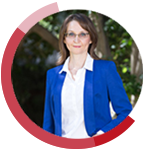 "Our ultimate goal is to develop in our MSc Business Management participants the ability to see opportunities in the dynamic world of management, and use – in a responsible manner – those opportunities to start or advance their career."
Dr. Olga Kandinskaia
Director of MBM – MSc in Business Management