Accreditations


Partners


A Bachelor's degree from an accredited university or college.
Proficiency in the English language evidenced by graduation from an English language institution, or satisfactory IELTS score (5.5) or equivalent TOEFL score or other standardized language examination.
Satisfactory quantitative skills as evidenced by the quantitative courses they have taken during their bachelor degree study.
A personal interview is an integral part of the selection process. The interview and documents providing evidence of the above qualifications are used as the basis for evaluating candidates. In cases where applicants have graduated from unfamiliar programs or universities, a GRE/GMAT examination score may be required.
The Master in Green & Digital Management (GDM) requires that students complete 90 ECTS credits as follows:
Earn 72 ECTS credits from taught core courses
Earn 18 ECTS credits from taught elective courses OR
Earn 18 ECTS from an 8,000-word Final Project (Thesis)
Students can join the programme any time of the year, a major advantage of the CIIM modular system of course delivery.
Students can choose to complete their coursework at a rapid pace in 14 months (full-time) or at a more relaxed pace taking up to a maximum of 2 years (part-time).
Core Courses: Total 72 ECTS
| Core Courses | Code | ECTS |
| --- | --- | --- |
| Analytical Tools | | |
| Management Theories and Applications | GD500 | 6 |
| Foundations of Accounting and Finance | GD510 | 4.5 |
| Economics for Managers | GD520 | 4.5 |
| Qualitative & Quantitative Research Methods | GD530 | 9 |
| Ethics, CSR & Sustainability | GD540 | 6 |
| Marketing Management | GD550 | 6 |
| | | |
| Digital Transformation | | |
| Digital Transformation of Businesses & Organizations | GD560 | 6 |
| Foundations of Business Information Technology | GD570 | 6 |
| Digital Business Tools and Digital Business Development | GD580 | 6 |
| | | |
| Green Transition | | |
| Green Transition of Businesses and Organizations | GD590 | 6 |
| Green Business Management & Leadership | GD600 | 6 |
| Green and Digital Entrepreneurship & Innovation | GD610 | 6 |
| | | |
| Total ECTS Credits (Core Courses) | | 72 |
Elective Courses: Total 18 ECTS
Elective Courses
Code
ECTS
Digital Marketing Track
Digital Marketing
GD620
6
Python Programming
GD630
6
Web & Social Media Analytics (requires BI420 as pre-requisite)
GD640
6
Circular Economy Track
The Circular Economy & Sustainable Development

(requires as pre-requisite GD590)

GD660
6
ESG: Environmental, Social & Corporate Governance
GD680
6
Innovations & Business Models for the Circular Economy

(requires as pre-requisite GD590)

GD700
6
Oil & Gas Management Track
Oil & Gas Finance, Accounting, and Green Management (requires GD510 as pre-requisite)
GD650
6
Oil & Gas Law, Contracts and Dispute Management
GD670
6
Sustainable Energy: Economics, Policy and Management
GD690
6
Final Project (Thesis) of 8,000 words on management issues, or Corporate Live Case Project (Elective)
GD900
18
Accreditations


Partners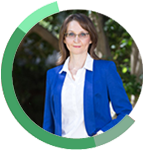 "The aim of the Master in Green & Digital Management is to develop in our students the ability to see value-creating opportunities in driving digital transformation and facilitating green transition of business entities and non-profit organizations, and to use those opportunities to start or advance their career while bringing a positive change to the society"
Dr. Olga Kandinskaia
Director of Master in Green & Digital Management