Accreditations


Partners


GDM Master is a practically oriented programme designed to develop university graduates into professional managers. The Programme emphasizes learning by doing through career development seminars, company visits, real-life company projects, and optional internships.
As Benjamin Franklin famously wrote: "Tell me and I forget, teach me and I may remember, involve me and I learn."
These activities take place via several courses, for example via the core course 'Management Theories and Applications' – which was previously titled 'Career and Industry Seminars' in the MSc Business Management (MBM), the GDM's predecessor. Another example would be the Corporate Live Case Project, an elective course of 18 ECTS as an alternative to the optional thesis.
We are listing below the web links where you can read about sample recent learning by doing activities by the new GDM students and by the CIIM MSc BM students in the past.
Company Visits
Internships
Live Case Projects
Other Relevant Articles
Accreditations


Partners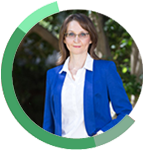 "The aim of the Master in Green & Digital Management is to develop in our students the ability to see value-creating opportunities in driving digital transformation and facilitating green transition of business entities and non-profit organizations, and to use those opportunities to start or advance their career while bringing a positive change to the society"
Dr. Olga Kandinskaia
Director of Master in Green & Digital Management