Accreditations



Programme Director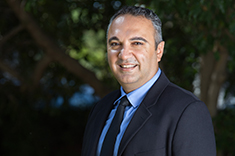 Prior to CIIM, Dr. Cleanthous held academic positions at New York University's Stern School of Business (2003-2007) and at the University of Cyprus (2007-2012). He has also held positions at the International Monetary Fund and Korea University and has taught and presented in a multitude of universities and organizations worldwide.
His fields of research and teaching are strategic growth, strategic innovation, marketing strategy, competitive advertising and market research, specializing mainly in the tourism and healthcare industries.
He has consultancy and training experience in global, multinational, SME, start-up, private and public organizations, on strategy, innovation, marketing, and business intelligence. He also has consultancy experience in governmental and semi-governmental organizations and academic forums. He is currently serving on the Board of Governors of the Cyprus Tourism Organization (CTO).
Paris Cleanthous, PhD (Yale University US), Associate Professor of Marketing and Strategy, Director of Master in Business Administration (MBA) Programme, & Director of Master of Public Sector Management (MPSM) Programme

Theodore Panayotou, PhD (University of British Columbia US), Professor of Economics and Ethics & Director and Dean of CIIM

Vicky Katsioloudes, PhD (Louisiana State University), Assistant Professor of Human Resource Development & Director of MSc Human Resource Management & Organizational Behaviour Programme

Andrey Afanasiev, PhD (Russian Academy of Science), Associate Professor of Finance and Risk & Director of MSc Financial Services Programme

Olga Kandinskaia, PhD (MGIMO-University, Moscow Russia), Associate Professor of Finance & Director of MSc Business Management Programme

Theodosis Mourouzis, PhD (University College of London), Lecturer in Information Management & Director of MSc Business Intelligence and Data Analytics Programme

Radoslav Baltezarevic, PhD (Megatrend University, Belgrade Serbia), Associate Professor of Marketing and Communication
Dr Marko Bastl, Phd (Cranfield School of Management, UK) Assistant Professor, Department of Management, College of Business Administration, Marquette University

Mike Berry, MSc with Distinction (Imperial College London), Visiting Lecturer and MSc Project Supervisor at the University of Warwick

Panayiotis Jacovides, MSc (Euromed Management – Grande Ecole of Marseille, France), CEO / Director of "The Expert's Alliance – Jacovides & Associates Ltd"

Mr. Demetrakis Savvides, PhD in Laws (Cand) University of Maastricht Law School. SEPT. 2016, Masters of Science in Justice Studies Arizona State University, Tempe AZ