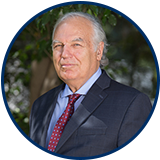 Theodore Panayotou
CIIM Director & Dean
Professor of Economics and Ethics
Dr. Theodore Panayotou, the Director and Dean of CIIM, is a 2007 NOBEL Peace Prize Contributor, and former a Harvard faculty member. He is Professor of Economics and Ethics at CIIM. Formerly a Visiting Professor at Tel Aviv University and former Member of the Cyprus President's Council of the National Economy.
Professor Panayotou taught Economics for 25 years at Harvard University where he served as Director of the Environment and Sustainable Development Program at the Centre for International Development. Before joining Harvard 1986, Dr. Panayotou was a senior economist with the Rockefeller Foundation (New York), based in Southeast Asia (Thailand) 1978-1985. He advised Presidents and Premiers in over 20 countries including China, Mexico, Russia, the USA and several countries in Eastern Europe, Central America and Southeast Asia, and served as consultant to companies, governments, the UN and the World Bank.
Dr. Panayotou has a BA in Economics from the University of Athens, an MA in Economics (Development Economics) from York University (Canada) and a PhD in Economics (Environmental and Resource Economics & Management) from the University of British Columbia (Canada).
Dr. Panayotou has published more than a hundred journal articles, monographs and books on the subjects of economic development, environmental management, climate change, sustainability and competitiveness. His most recent book Environment for Growth is published by Harvard University Press. He is considered a world authority on economic instruments and innovative financing mechanisms, transferable development rights, and on sustainable and experiential tourism.
In early 1990s, Dr. Panayotou was one of the first economists to introduce and test the idea of an Inverted-U relationship between environment degradation and economic development (known as Environmental Kuznets Curve) and explore the role of economic policies, and the capacity to absorb innovation and technological change.
In the years 1995-97 leading to the Kyoto Protocol, Dr. Panayotou contributed to the development of Joint Implementation, emissions trading and the Clean Development Mechanism, and trained thousands of policy makers in governments and international organizations in the economics of climate change through his Climate Change Workshops at Harvard and around the world.
In the early 2000s in cooperation with Professor Jeffrey Sachs of Harvard (now at Columbia), Panayotou estimated econometrically and valued the economic impacts of climate change on different regions of the world and proposed a scheme of Compensation for Meaningful Participation in Climate Change Control.
In 2010 he served as advisor to the High Level Advisory Group on Climate Change Financing (AGF) of the UN Secretary General chaired by the Norwegian Prime Minister and co-authored the Group's Report on Climate Change Financing, endorsed by the UNFCCC COP 16 in Cancun in December 2010. At the same time, he served as advisor to the COP16 host, the Government of Mexico (President and Minister of Finance), on Climate Change Economics and Policy.
MB505 – Corporate Environmental Management

MB410 – Ethics in Business & Government

MP510 – Non-Market Valuation Methods

MP505 – Cost-Benefit Analysis

HR485 – Ethics & Social Responsibility

ED475 – Ethics in Educational Leadership

MA430 – Professional & Career Development

MA780 – Managerial Economics

ED475 – Ηθική & Εκπαιδευτική Ηγεσία

ED490 – Καινοτομία και Επιχειρηματικότητα στην Εκπαίδευση
Director of CIIM (2000 till present)

John Sawhill Lecturer in Environmental Policy John F. Kennedy School of Government

Professor Ethics in Business & Government and Corporate Environmental Management CIIM

Harvard University

Associate and Country Representative (Thailand) of the Agricultural Development Council and Winrock International(1982-1985)

Visiting Profes¬sor of Economics, Kasetsart and Thammasat Universities, Bangkok, Thailand (1978-1985)

Program Specialist with the Agricultural Development Council, New York (1981-1982)

Rockefeller Foundation Special Staff for Policy Analysis (1980)

Economic Consultant, Criterion Analysis, Dallas, Texas (1974)

Economist, Ministry of Finance, Cyprus (1972)