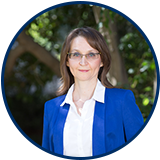 Olga Kandinskaia is Associate Professor of Finance and MSc Business Management Director at CIIM – Cyprus International Institute of Management. She has PhD in Economics (1995) from the MGIMO-University in Moscow, Russia.
Originally from Moscow, Russia, Dr Kandinskaia moved to Cyprus in 2001, and she joined CIIM first on a part-time basis in 2002, and then on a full-time basis in 2011. She has 25+ years of experience in teaching undergraduate, postgraduate and executive courses at different universities and colleges in Cyprus, UK, Portugal, and Russia. Olga's PhD research was in financial derivatives as risk management tools. At that time, she also had practical experience of working as a futures broker. Her current expertise is in the areas of Financial Management, Business Planning, Strategic Investment Decisions, Corporate Finance, and Business Valuation.
Olga is a passionate advocate of innovative teaching methods in business education, such as experiential learning, case method, and blended learning. Her teaching style is highly interactive, she emphasizes customized and practically relevant learning where theory is applied to real-life cases. Her finance classes include extensive Excel-based workshops designed to help students develop solid financial modeling skills. Olga's teaching skills have earned high scores in student evaluations.
Olga is a pioneer at her business school and overall in Cyprus for writing teaching cases about innovative business projects. Olga has received three prestigious international awards in case writing (all three are the first time wins for CIIM Business School and for Cyprus):
'Outstanding New Case Writer' (2017) for the case about Engino, innovative Cypriot SME – annual international competition by The Case Centre, the top global distributor of cases to universities and business schools;
'Jonathan Welch Award for Best Case in Accounting, Finance and Economics' (2018) for the case about the innovative project in New York by Zorbas Bakeries – annual international conference of NACRA (North American Case Research Association), the top global academic case research association; in 2019 this case was published in the top global case journal Case Research Journal and became the first case in Harvard Business Review Store about a Cypriot company;
'Best Case Gold Award' (2019) for the case on a crowdfunding campaign led by a female CEO in Belgium (written together with Belgian colleague Dr Huyghebaert) – annual international conference of NACRA (the top award for the best case out of 72 presented at the conference).
In total, Olga has published 12 papers in international peer-reviewed scientific journals. She has presented cases and papers at 18 international peer-reviewed conferences. She is a member of several international academic case research associations and is on several editorial boards as reviewer. Olga is a Board Member (VP Programs-elect 2021-22) and the Chair of the Accounting, Finance and Economics Track of NACRA, the top global case research academic association.
As Director of the MSc in Business Management at CIIM, Olga has created a unique postgraduate programme in Cyprus which has fully embraced a wide variety of experiential learning activities. Olga's "Learning by Doing" innovative teaching method in business management received Silver and Bronze Awards by Cyprus Education Leaders Awards 2020.
Olga has substantial experience in distance learning education – having developed several online modules for UK-based programmes. At CIIM Olga has supervised the introduction of blended learning via Moodle.
Dr Kandinskaia has an extensive record of publications: initially in Russian (2 books and 50+ articles in Russian academic and business journals between 1995 and 2012), and from 2010 in English (12 papers in peer-reviewed journals, including the top global journal for cases Case Research Journal by NACRA, the only case journal distributed via Harvard Business Publishing).
Dr Kandinskaia is on the editorial boards as reviewer for Case Research Journal, Business Case Journal, Journal of Financial Education, Journal of Case Studies, Journal of Critical Incidents, the Multinational Finance Society conference, and the NACRA conference. From 2020, Olga acts as the Chair of the Accounting, Finance and Economics Track of the Annual Meeting of NACRA, the top global case research academic association. From September 2021, Olga is a Board Member at NACRA in the role of VP Programs-elect 2021-22.
PUBLICATIONS IN INTERNATIONAL PEER-REVIEWED ACADEMIC JOURNALS
BOOK CHAPTERS
Dementieva, A., Kandinskaia, O., and Dubovskaya, O. (2021). Chapter 9 – Russian Corporate Sector: A Portrait. In A. Dementieva and E. Zavyalova (Ed.). Corporate Governance in Russia – Quo Vadis? (pp. 93-103), De Gruyter, https://doi.org/10.1515/9783110695816
AWARDS
Silver Award by the Cyprus Education Leaders Awards 2020 in the category Β.4 Συνεργασία με Επιχειρηματικούς Φορείς και Οργανισμούς – 'Learning by Doing': Virtuous Cycle of Education-Industry Collaboration, 7 October 2020. https://www.ciim.ac.cy/cyprus-education-leaders-awards-2020/
Bronze Award by the Cyprus Education Leaders Awards 2020 in the category Α.1 Καινοτομία στη Διδασκαλία – 'Learning by Doing' Innovative Teaching Method in Business Management at CIIM, 7 October 2020. https://www.ciim.ac.cy/cyprus-education-leaders-awards-2020/
"Best Case Gold Award" at the NACRA Annual Conference, Tempe, Arizona, USA, 10-12 October 2019 (the top award for the best case out of 72 presented at the conference). https://www.ciim.ac.cy/international-award-for-ciim-professor/
Jonathan Welch Award at the NACRA Annual Conference, Orlando, USA, 4-6 October 2018 – "Best Case in Accounting, Finance and Economics". https://www.ciim.ac.cy/ciim-professor-wins-acclaimed-international-award/
Recognition Award from the Multinational Finance Society "Long-Standing Contribution and Commitment to the Society", 25th Annual Conference of the MFS, Budapest, Hungary, 24-27 June 2018.
Top prize in the international case writing competition by The Case Centre for 2017 in the category 'Outstanding New Case Writer', 27 February 2017 (best case selected from the 28 cases entered in the competition from 25 organisations and 16 countries) http://www.thecasecentre.org/educators/ordering/selecting/featuredcases/CompetitionWinners/ENGINO?ueid=awards17_deans-33
Corporate Finance 6 ECTS (MBA & MSc)

Financial Accounting 6 ECTS (MBA)

Foundations of Accounting & Finance 4.5 ECTS (MSc)

Career and Industry Seminars 4.5 ECTS (MSc)

Special Topics in Management: Live Case Project with a Company 6 ECTS (MSc)

Online Simulation on Leadership and Team-Building Skills (MSc) 0.75 ECTS

Final Project Workshop (MSc in Business Management)

Moodle Workshop

Final Project (thesis) supervision for MSc Business Management and for MBA