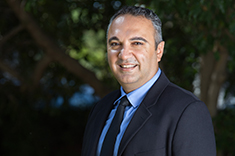 Paris Cleanthous
MBA Director MPSM Director Associate Professor of Marketing and Strategy
   +357 22 462 227         paris@ciim.ac.cy
MB735 – Competitive Analysis

MB420 – Managerial Economics

MA480 – Managerial Economics

MA490 – Marketing Management

HR585 – Qualitative Research

HR435 – Research Methodology
Dr. Paris Cleanthous is the director of the MBA and MPSM programmes at the Cyprus International Institute of Management (CIIM) and professor of Strategy and Marketing. At the same time, he is a visiting scholar at the London School of Economics and Political Science (LSE) and Open University Cyprus.
Dr. Cleanthous received his B.Sc. in Economics and Mathematics from the University of Michigan, Ann Arbor. He then continued his studies at Yale University where he received his M.A., M.Phil., and Ph.D. in Economics.
Prior to CIIM, Dr. Cleanthous held academic positions at New York University's Stern School of Business (2003-2007) and at the University of Cyprus (2007-2012). He has also held positions at the International Monetary Fund and Korea University and has taught and presented in a multitude of universities and organizations worldwide.
His fields of research and teaching are strategic growth, strategic innovation, marketing strategy, competitive advertising and market research, specializing mainly in the tourism and health-care industries.
He has consultancy and training experience in global, multinational, SME, and start-up, private and public organizations, on strategy, innovation, marketing, and business intelligence. He also has consultancy experience in governmental and semi-governmental organizations and in academic forums. He is currently serving on the Board of Governors of the Cyprus Tourism Organization (CTO).