Accreditations


MSc Human Resource Management & Organisational Behaviour Programme Overview
Nowadays, most companies recognise that employees are their most valuable asset. Their competitiveness largely depends on their employees' skills, knowledge, engagement and ability to adapt quickly to changing business requirements. Therefore, the human resources function assumes a far more strategic role than before in driving business results and effectiveness. Students attending the MSc in Human Resource Management and Organisational Behaviour programme will gain the required skills and knowledge to help organisations align their people strategy with business strategy and navigate confidently in today's competitive and uncertain environment.
Is the programme suitable for me?
WHY MSc in HRM & OB
Accredited by DIPAE/KYSATS in Cyprus.
It is endorsed by the Cyprus Human Resource Management Association (CyHRMA).
The programme is aligned with the Society for Human Resource Management curriculum guidelines.
It blends academic knowledge with professional practice and skills, as it consists of academic courses taught by distinguished faculty as well as professional workshops delivered by highly experienced professionals, members of the CyHRMA.
Covers all functional areas of HRM with an emphasis on the strategic and international aspects of HRM and the development of important skills.
Flexibility: The rolling start dates, modular structure and modern learning techniques enable you to invest in your future potential as an HR professional and maintain a balance between your professional and personal life.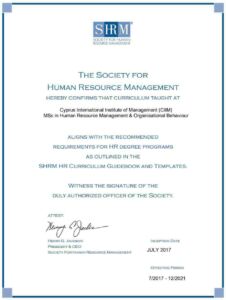 The Society for Human Resource Management (SHRM), the largest HR professional association in the world, has formally acknowledged that CIIM's MSc in Human Resource Management & Organisational Behaviour curriculum is fully aligned with SHRM's HR curriculum guidelines and templates.
The MSc in Human Resource Management & Organisational Behaviour programme is designed to meet the needs of individuals with a commitment to HRM who would like to launch or advance their career in the dynamic field of human resources management.
The purpose of the programme is to:
Provide participants with a comprehensive conceptual and theoretical background that will enable them to launch successfully and advance their careers in the field of HRM in Cyprus and abroad.

Develop participants' critical understanding of the key trends and developments in the research and practice of HRM at an international level.

Develop a critical mind-set that will enable participants to review current HRM/OB practices with the aim to align people results with business strategy and contribute to the success of their organisations.

Develop participants' ability to apply skilfully proper techniques, tools, and methodologies in order to solve complex problems and exercise judgment on issues that relate to HRM/OB.

Acquire essential skills that relate to effective leadership and management.
81% said that their studies have had a positive impact on their employability and career
92% would recommend the programme to others
70% of those who were not working upon registration to the programme found a job before graduation
72% of those who were working during their studies, got a promotion by their graduation
All working students got a salary increase in the period between their registration to the programme until 6 months after graduation