Accreditations


Technology and digitization are increasingly entering our daily lives, society, business, economy and government. This is necessary to improve efficiency, remain functional, competitive and even safe. There is a general consensus that the use of technology in our daily lives and in our working practices whether in business or the professions will continue to increase and even accelerate.
It is becoming apparent that the long-term practice of simply scaling up existing technologies has reached its limits and that the use of technology has to be updated and upgraded. This is also underlined by several recent developments. Most notably, the pandemic that requires communicating, remaining productive and adjusting business practices and policies while at the same time observing physical distancing.
Furthermore, the increasing realization that the deleterious impact of the economy on nature and climate makes it necessary to rethink and restructure business practices and consumption behaviours to reduce our environmental footprint. The appropriate and measured use of computer science has a critical role to play in this respect and it should be fully mobilized to support the world's efforts to move to a more sustainable economic model.
At the same time, a huge amount of data is piling up from various aspects of our business, professional, and social activities, necessitating an extensive infrastructure and software to accommodate, organize and analyse it for use as an input in improved decision making.
Last but not least, the complexity of the goals of modern software systems necessitates agile processes for software development and operation. The increased complexity and prevalence of data and software in businesses and society often challenge social norms and create ethical issues requiring novel regulatory and legal frameworks.
Businesses need employees that have the necessary digital skills and the technology tools for a modern working environment to spearhead their digital transformation. At the same time, companies exclusively active in technology need employees for software development with better understanding of business needs and processes. To address these multiple needs , we have developed this conversion master's program in applied computer science and business technologies.
Accreditations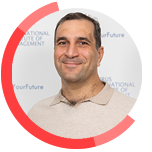 "This program upskills and reskills the students in computer science for business technologies. It can help the graduates remain competitive and productive in a modern professional environment and help their businesses with the digital transformation. The program also provides sufficient background to convert to a career on software development or on artificial intelligence."
Dr. Stathis Hadjidemetriou
Director of MSc in Computer Science & Business Technologies