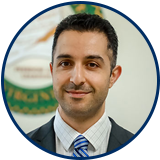 Vias Kris Nikolaidis
Associate Professor
Dr. Vias K. Nikolaidis has over 12 years of scientific research and applied work experience in the Human Resource Management and Human Capital Management domains. Vias possesses strong technical, analytical, and research skills which he has applied in the areas of selection and measurement development, training and development, program evaluation, performance management, competency model development and validation, employee attendance and absenteeism, talent management, and leadership. In addition, he has proven experience utilizing statistical methods and data analysis to form workforce analytics and drive decision-making based on data and evidence-based practices. Among others, his clients have included Booz Allen Hamilton, American Bankers Association, Electricity Authority of Cyprus, Clyde Union Pumps, Department of Defense, Department of Veterans Affairs, Department of the Navy, U.S. Marine Corps, and the U.S. Army Research Institute for the Behavioral and Social Sciences.
Vias has published and presented his work in international and national conferences and published his research in leading scientific journals. He has worked on projects in a variety of countries, such as Cyprus, Mexico, Scotland, South Korea, United Arab Emirates, and the USA. Vias is fluent in English, Greek, and Spanish.
Cheung, H., Goldberg, C. B., Konrad, A. M., Lindsey, A., Nicolaides, V., & Yang, Y. (2020). A meta-analytic review of gender composition influencing employees' work outcomes: implications for human resource development. Human Resource Development International, 1-28.
Hook, G., Crist, J., Nicolaides, V., Wrigglesworth, A., Kiffer, J., & Muir, J. (2019). GMU Korea: Challenges And Innovations. In Innovations in Teaching & Learning Conference Proceedings (Vol. 11, pp. Building-2903).
Nicolaides, V. C. (2016). Predicting Daily Attendance Behaviors: A Theory of Planned Behavior Approach (Doctoral dissertation).
Hermida, R., Luchman, J. N., Nicolaides, V., & Wilcox, C. (2015). The issue of statistical power for overall model fit in evaluating structural equation models. Computational Methods in Social Sciences, 3(1), 25.
Mascitelli, A. N., Rojahn, J., Nicolaides, V. C., Moore, L., Hastings, R. P., & Christian‐Jones, C. (2015). The behaviour problems inventory‐short form: reliability and factorial validity in adults with intellectual disabilities. Journal of Applied Research in Intellectual Disabilities, 28(6), 561-571.
Nicolaides, V. C., LaPort, K. A., Chen, T. R., Tomassetti, A. J., Weis, E. J., Zaccaro, S. J., & Cortina, J. M. (2014). The shared leadership of teams: A meta-analysis of proximal, distal, and moderating relationships. The Leadership Quarterly, 25(5), 923-942.
Kaplan, S., Cortina, J., Ruark, G., LaPort, K., & Nicolaides, V. (2014). The role of organizational leaders in employee emotion management: A theoretical model. The Leadership Quarterly, 25(3), 563-580.
HR405 – Organisational Behaviour

HR565 – Rewards Management

HR600 – International HRM

HR605 – Strategic HR