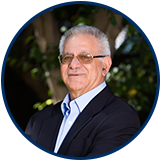 Takis Stylianides
Emeritus Associate Professor
Christodoulos (Takis) Stylianides is an Associate Professor and Director of the MSc Human Resource Management and Organisational Behaviour programme at CIIM. He is also the VP of Operations at CIIM.
Dr Stylianides has been with CIIM since 1991 teaching Total Quality Management (TQM), Operations Management and Project Management. He is currently examining the use of the SERVQUAL model in public sector and semi-government organisations.
Dr Stylianides studied BSc Chemical Engineering (University College London), MS, Industrial Engineering and Management, PhD Industrial Engineering and Management (North Dakota State University), C. Eng.
Dr Stylianides worked for over eight years with Hellenic Mining Co. Ltd and Hellenic Chemical Industries Ltd holding various positions including Plant Manager for the Phosphoric Acid Plant and the Fertiliser Bagging Plant. He has worked as an Assistant Professor in the Department of Industrial Engineering and Management at the North Dakota State University, teaching Operations Management, Statistics for Engineers and Quality Control.
Dr Stylianides has also worked as a researcher for a World Bank report on Environmental Policy in Cyprus and did research on Environmental Management, including strict pollution control, water pricing, and infrastructure financing.
He was also the Operations Manager of the Robert Perkins Engineering Computer Centre for Advance Technology and has been a consultant to several companies in North Dakota and Minnesota in the area of Quality Management.
Dr Stylianides was a member of the committee evaluating proposed incubator projects submitted to the Cyprus Ministry of Commerce and Industry.
He is an active member of the Project Management Institute, USA and was a presenter of the Institute's workshop on Quality Management at its annual conference. He is a certified project manager with AMP and PRINCE, UK.
MB695 – Total Quality Management

MB525 – Final Project Workshop

MB670 – Operations Management

MB710 – Project Management

MB520 – Market Research

ΕD485 – Διοίκηση Ολικής Ποιότητας