Accreditations


The program starts with introductory topics and provides the necessary theoretical background to comprehend the modern technologies that can be applied to businesses to improve productivity, address modern needs and create new potentials. Some of these technologies are web development, mobile application development, and the cloud. The program continues with the application of machine learning and neural networks to the analysis of big-data. It also covers cryptography that is significant for the IT security of an organization. This together with the next topic, Distributed Ledger Technology (DLT), enable the understanding of block-chain technologies and cryptocurrencies.
The program continues with more general subjects. It first goes over agile software development practices and its aims. Then, it addresses the acceptance of modern technologies in society that may require a change in social norms and the ethical issues they give rise to. It also addresses the updates required in the legal and regulatory framework.
The research topics of the institute recognize the need for results in the medium-term and even in the short-term for real problems. They revolve around modern topics such as the development and application of artificial intelligence to a variety of domains that include business, biomedicine, and government. There is also research activity on blockchain and cryptography. More general issues such as sustainability and ethics are also investigated. The students will have the opportunity to take, as electives, courses from any of the other programs of the Institute. Finally, work on a research project on any of these topics or a combination as part of their program.
Accreditations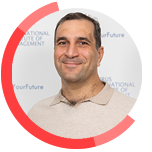 "This program upskills and reskills the students in digital information technologies. It can help the graduates remain competitive and productive in a modern professional environment and help their businesses with the digital transformation. The program also provides sufficient background to convert to a career on software development or on artificial intelligence."
Dr. Stathis Hadjidemetriou
Director of MSc in Applied Information Technology