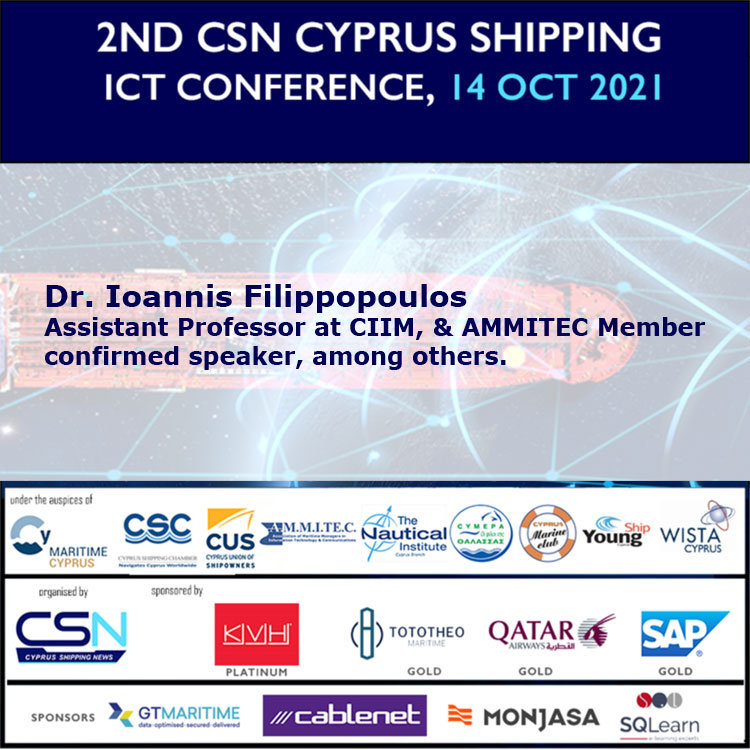 2nd CSN Cyprus Shipping ICT Conference
The 2nd CSN Cyprus Shipping ICT Conference will take place in Limassol on Thursday 14th, October, 2021.
Date: 14 October 2021
Time: 09:00-18:00
Venue: Carob Mill Conference Centre, Limassol
---
The conference is under the auspices of the Cyprus Shipping Deputy Ministry and supported by the Cyprus Shipping Chamber, Cyprus Union of Shipowners, Cyprus Marine Club, CYMEPA, WISTA Cyprus, YoungShip Cyprus, The Nautical Institute and AMMITEC of Greece. The event will take place at the Carob Mill Conference Centre with physical presence.
We would like to invite you to our 2nd Cyprus Shipping ICT Conference where together with key industry experts from industry bodies, shipowners, ship managers, service providers and equipment manufacturers we will look at the operational aspects impacting this sector.
We will have lead discussions on Digitalisation, Cybersecurity, Digital Technologies used for Decarbonisation, E-Learning, Crew Welfare during COVID times and ICT Challenges for Shipping in 2021, as well as creating an Internet of vessels for real time data collection in this fast moving modern market.
Covid-19 Requirements: Following the relevant circular of the Cyprus Ministry of Health, participation in a conference by physical presence presupposes the presentation of SafePass:
Vaccination certificate, at least the first dose and 3 weeks have passed (vaccination card), or
Proof that the person has been ill with COVID-19 in the last 6 months (release or recovery sms sent by the Ministry of Health), or
Certificate of negative test, PCR or rapid test, valid 72 hours before the conference. Please have a safe SafePass in your possession, if requested, for verification.
Confirmed speakers, Chair Persons, Moderators , Panelists include:
Stella Violari – Cyprus Shipping News
Zoe Morphitou – Senior Sales Manager – KVH
Vassilis Demetriades – Shipping Deputy Minister to the President
Thomas Kazakos – Director General – Cyprus Shipping Chamber
Capt. Eugen Adami – Managing Director – Mastermind Group
Sven Brooks, Senior Business Development Director – KVH
Dimitris Tsoubelis – SAP – Business Architect, member of Global Services Architect Community
Dr. Ioannis Filippopoulos – "Assistant Professor at Cyprus International Institute of Management (CIIM)– AMMITEC Member"
Francis Zachariae – Secretary General – IALA/AISM
Ioannis Kyriakides – Senior Scientist – CMMI
Jeppe Skovbakke Juhl – Manager, Maritime Safety & Security – BIMCO
Andreas Chrysostomou – Chief Strategy Officer – Tototheo Maritime
Alexandros Josephides – Deputy Director General/Marine Manager, Cyprus Shipping Chamber
Manos Manoli – Chairman of the Cyprus Shipping Chamber ICT Committee
Simon Fotakis, Chief Technology Officer – Tototheo Maritime
Alex Zervos – Regional Head of Sales – GTMaritime
Chairman Georgios Strouzakis – Founder and CEO at EYEONIX SA
Gideon J. Lenkey, CISSP Epsco-Ra Security Systems
Gregoris Gregoriou – IT Manager – Island Oil Holdings
Demetris Charalambous – General Manager – Petronav Ship Management
David Tropp Hag – Senior Sales Director for EMEA East, KVH
Martina Meinders – Managing Director – Marin Shipmanagement
Sofronis Theodosiou – Fleet Personnel Manager – BSM Cyprus
Captain Nikos Aslanis – SQLearn
Andromachi Demetriou – Captain Class C
Natalie Georgiou – Senior Crewing Officer – Mastermind Group